Fostering Dreams Through Dance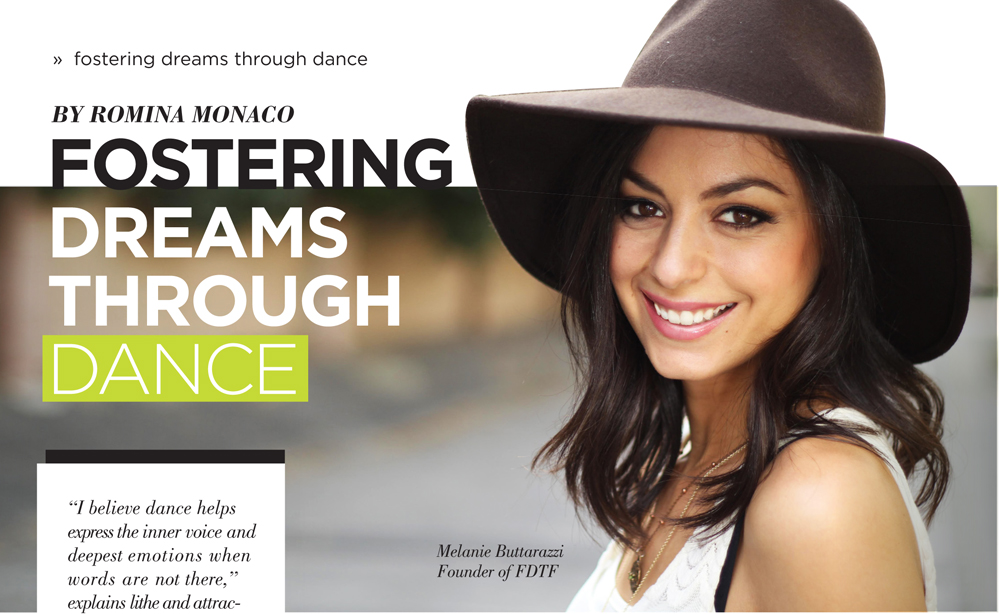 "I believe dance helps express the inner voice and deepest emotions when words are not there," explains lithe and attractive Melanie Buttarazzi as she sits comfortably by the kitchen table at her parents' residence overlooking one of Vaughan's many picturesque valleys. As the eldest daughter of Robert Michaels, celebrated Juno-winning and platinum-recording guitarist, it seems the apple doesn't fall far from the tree. Beginning dance at age four and eventually graduating with a BFA degree from York University, the twenty-eight year old professional dancer is quite accomplished with appearances in the television series, "So You Think You Can Dance" and a Jennifer Lopez music video including on-stage performances alongside Pitbull and Ne-Yo.  However, reaching for the stars hasn't been her only resolve. With an inherent philanthropic spirit and a desire to utilize her artistic talents for the greater good, Buttarazzi has embarked on a new journey, establishing Fostering Dreams Through Dance (FDTD), a non-profit program teaching life skills via dance expression to foster children, homeless and other at-risk youth.
"In 2010 I joined my dad on his month-long tour through California doing flamenco," says Buttarazzi. "Aside from the concerts, we participated in shows that were outreach programs teaching kids music and dance in elementary schools. The kids would tell me they couldn't learn how to dance because their parents didn't have any money. It broke my heart. " Touched by the incredible response as well as the children's inaccessibility to dance study she felt compelled to make a difference. Then a year ago, while on soujourn in Los Angeles, she decided to take a leap of faith. "I don't know what happened but I said to myself, 'Mel, you have to create a program for children in need and you have to help them through dance because dance is what you know.' So I did research, spoke to people and everyone I met led me to where I am now," she explains.
It was sheer determination and resourcefulness that led her to acclaimed film producer, Peter Samuelson – founder of First Star Academy, a charity dedicated to abused and neglected children.  Samuelson, who also established the Starlight Children's Foundation with Steven Spielberg, was impressed by Buttarazzi's vision and connected her to the Teen Project. With the objective to support and empower vagrant Los Angeles youth exiting the foster care system, Teen Project leader, Lauri Burns went on to implement the novel FDTD program at her free rehabilitation centre. "When I walked into my first class the girls were gangstered-out, crossing their arms and had a lot of attitude. They seemed to be thinking 'Who's this little white girl and why is shehere?' Although I knew they were coming from the streets this wasn't going to fly with me," she laughs. "By the end of class they were hugging me."  Understanding the participants of this all-female class were homeless and existing in a world where it was basically every person for themself, Buttarazzi found validation once she recognized that through dance they had been transformed. Following just one session the girls had bonded and were much more patient and calm. To ensure the program's continued success she reached out to colleagues hoping they too would volunteer their time and expertise. The response was instantaneous and soon young women, who could never in their wildest dreams afford to study dance, were being instructed by crème de la crème choreographers once employed by Lady Gaga, Madonna and Michael Jackson.
While flipping through countless photos taken at FDTD classes she tells Fredi Magazine about 24 year-old Francis. "If there was anyone in the class who was rebellious and wanted to leave it, was Francis. She was always so frustrated," she points out. "Then one day she told me it was easier to be on the streets, finding her next high and running from the cops, than it was to be my dance class. She thanked me and said I taught her discipline which was something that she had never had before. Francis is now planning on going to college."  Images on Buttarazzi's laptop show girls clad in funky urban-wear moving to hip hop, freestyle and contemporary dance at a flash mob in Venice Beach. "A flash mob is when you have a choreographed dance and go to a public place and just start doing it. The purpose is to attract people to join in. Some of the girls from Lauri's shelter were incarcerated and wearing ankle bracelets so she had to get special permission from the local police to set them free for a day in order to participate."  According to the dancer, this event which was presented by the Teen Project, FDTD, First Star Academy and UCLA in July 2014 fascinated onlookers and was a massive success.
Driven by heart and soul, Buttarazzi continues to work alongside these organizations and is currently collaborating with First Star Academy in a united effort to expand to Toronto.  She says that although there are periodic weekend programs there is nothing full-time or anything truly of its kind available in Canada.  By elevating the spirit through the body-mind connection FDTD is a clear testament to the power of dance. Through this type of mentorship troubled youth find the courage to forge on and alter their course, building self confidence and a sense of community amongst themselves. "I created this from nothing except an idea. I knew this was really important and that it had to be done – giving to kids who don't have love and the support system that I had."
Website: www.fosteringdreamsproject.org