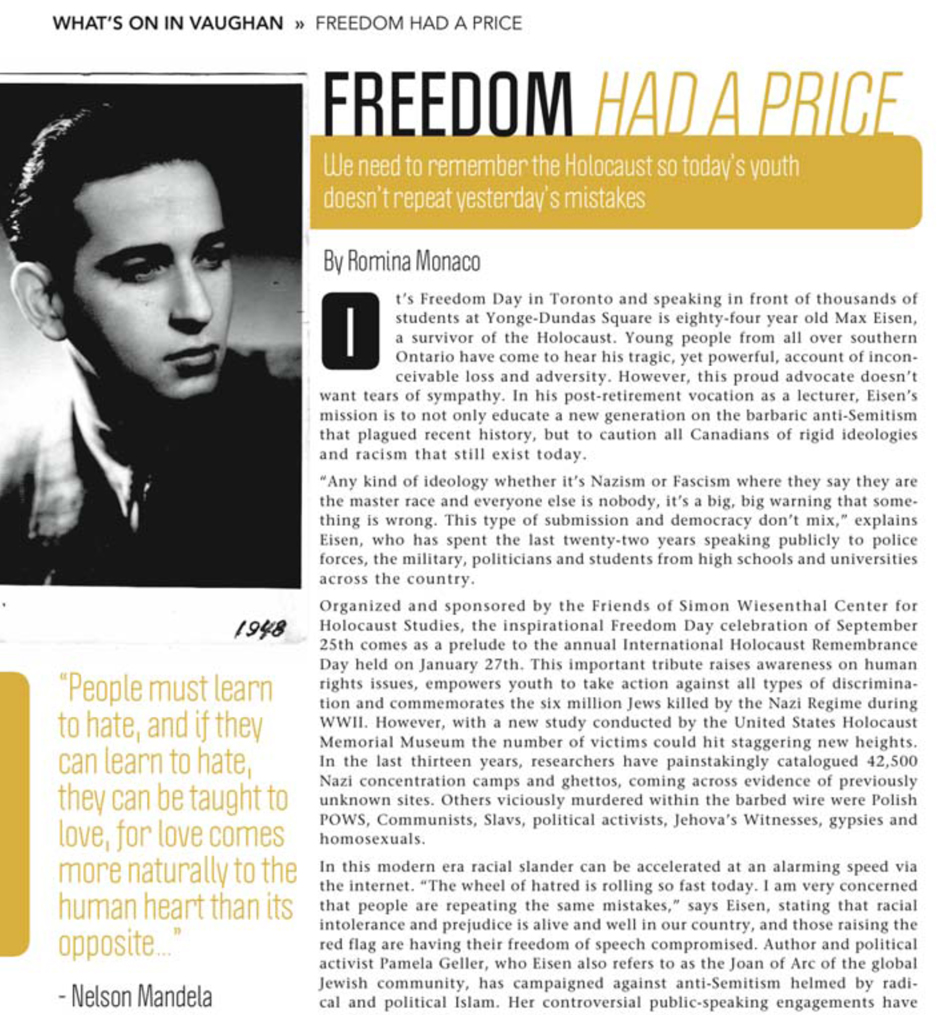 It's Freedom Day in Toronto and speaking in front of thousands of students at Yonge-Dundas Square is eighty-four year-old Max Eisen, a survivor of the Holocaust. Young people from all over southern Ontario have come to hear his tragic yet powerful account of inconceivable loss and adversity. However, this proud advocate does not want tears of sympathy. In his post retirement vocation as a lecturer, Eisen's mission is not only educating a new generation on the barbaric anti-Semitism that plagued recent history, but to caution all Canadians of rigid ideologies and racism still existing today. "Any kind of ideology whether it's Nazism or Fascism where they say they are the master race and everyone else is nobody, it's a big, big warning that something is wrong. This type of submission and democracy don't mix," explains Eisen, who has spent the last twenty-two years speaking publically to police forces, the military, politicians and students from high schools and universities across the country.
Organized and sponsored by the Friends of Simon Wiesenthal Centre for Holocaust Studies, the inspirational Freedom Daycelebration of September 25th comes as a prelude to the annual International Holocaust Remembrance Day.  This important tribute raises awareness on human right issues, empowers youth to take action against all types of discrimination and commemorates the estimated six million Jews killed by the Nazi Regime during World War II. However, with a new study conducted by the United States Holocaust Memorial Museum the number of victims could hit staggering new heights. In the last thirteen years researchers have painstakingly catalogued 42,500 Nazi concentration camps and ghettos, coming across evidence of previously unknown sites.  Other groups viciously murdered within the barbed wire were Polish POWs, communists, Slavs, political activists, Jehova's Witnesses, gypsies and homosexuals.
In this modern era racial slander can be accelerated at an alarming speed via the internet. "The wheel of hatred is rolling so fast today. I am very concerned that people are repeating the same mistakes," says Eisen stating that racial intolerance and prejudice is alive and well in our country, and those raising the red flag are having their freedom of speech compromised. Author and political activist, Pamela Geller, who Eisen also refers to as the Joan of Arc of the global Jewish community, has campaigned against anti-Semitism helmed by radical and political Islam.  Her controversial public speaking engagements have even caused a stir right here at home. According to Jewish activists, Geller's scheduled May 2013 appearance at Thornhill's Chabad Flamingo Synagogue was cancelled after continuous pressure by authorities. However, York Regional Police have denied these allegations. In 2011 regular pickets were held outside a modest Montreal shoe store importing merchandise from Israel.  Anti-Zionists rallying for a Palestine free of Israeli occupation, called for a complete boycott of the establishment. This year alone swastikas were chillingly scrawled on a Toronto rabbi's garage door while another was carved onto the greens of a Richmond Hill golf course.  In the city of Vaughan, four homes were defaced with similar anti-Semitic graffiti. Geller believes we can all do our share to raise awareness. "During the course of the day you may see or hear things that you know are wrong. Say something," she tells an audience at the Zionist Centre of Toronto.  "You have a sphere of influence and there's no need for a national platform." If a common voice of reason fearlessly rose and reverberated across Nazi Germany could the course of history have been altered? In hindsight the victims of the Holocaust know all too well the relevance of free speech and the fact that any have survived to tell their grizzly and heart wrenching story is a sheer miracle.
"I think back and wonder how did I survive this? How did anyone survive this?" says Eisen, who at the age of fifteen was sent into slave labour at the most notorious of all camps, Auschwitz-Birkenau where the average life expectancy of a Jewish prisoner was merely a few months. Whether it was the assistance of compassionate soul, willful determination or just sheer luck, he feels he probably could not have survived the cruel conditions and dehumanization within the camp had it not been for the crucial life skills he learned from his family.
Raised in rural Moldava in the former Czechoslovakia, Eisen's once-happy childhood came to an abrupt end in the spring of 1944. After celebrating the first night of Passover he, his family and extended relatives were visited by Hungarian armed officers and forcibly removed from their homes and sentenced to Auschwitz, where Eisen's mother, two younger brothers, baby sister and paternal grandparents were led immediately and unknowingly to the gas chamber while his father and uncle were later selected for medical experiments and never seen again. Eisen himself was forced into slave labour.  Out of sixty family members only he and two cousins survived.
"My father had only seconds to say good-bye to me. He gave me a blessing and I knew in that moment that my family was gone," recalls Eisen, solemnly. "It was a devastating moment but I knew I couldn't give up. He told me that I needed to tell the world what was happening here."
Nearing the end of the war, attempts were made to destroy all evidence of mass genocide. Death camps were evacuated and surviving, emaciating Jews were brutally marched to alternative camps. Many died in these Death Marches, either by dehydration, exhaustion or a gunshot. Eisen barely survived his journey to Ebensee Camp in Austria.  Sick with typhoid, he was freed May 6, 1945 by the American 761st Black Panther tank battalion.  In a twist of fate, he has participated in twelve March of the Living trips to Poland and Israel. This symbolic educational program available to Jewish students worldwide ensures that no one forget the past.
Another survivor who has made it her mission to educate the public is Chava Kwinta.  Now a retired nurse, she also spent years making rounds in the local public speaking circuit even narrating her story in a self-published autobiography, I'm Still Living. The daughter of Polish Jewish shopkeepers, Kwinta and her family were sent to live in the ghetto after their home and business were confiscated. With their father missing and mother dying while trying to avoid selections and subsequent arrest, she and her sister were left alone with no protection. "Thankfully we were saved from the Auschwitz deportation by an aunt who was in good favour with a female German officer," says Kwinta, who after the war spoke in the woman's defence at a tribunal.  Following an excruciating death march to Bergen-Belsen Concentration Camp the sisters were eventually liberated April 15, 1945.
Also liberated that day at Bergen-Belsen was Romanian-born, Edith Kirshen. At the age of thirteen, she and seven members of her immediate family were taken from their home and herded onto a cattle car headed to Auschwitz. Only Kirshen and her two older survived the camp.  After liberation she continued to live in fear of persecution and chose to bury the story of her past, even hiding the truth from her own children. Today she has courageously found her voice, choosing to speak to Whatever Vaughanabout the incomprehensible hatred that destroyed her innocence. "For me a person is a person.  We all bleed the same way and we were all born the same way. I don't understand all this hatred. There is so much opportunity for everyone," Kirshen says, with shaking her head.
Her words echo the very foundation on which this country is built on.  As an international role model for diversity as well as immigration and human rights policies, the survivors feel that it is imperative that we protect this great Canadian legacy. They remind us that if we do not keep our eyes open and watch for the signs, history has an ominous way of repeating itself. "When the lies become the truth, society goes upside down," warns Eisen, who says he will continue to educate the masses and spread his wisdom for as long he can. He, along with Kwinta, Kirshen and countless other survivors are not only the collective voice of the loved ones they have lost but are also a tangible reminder of just how fragile freedom can be.