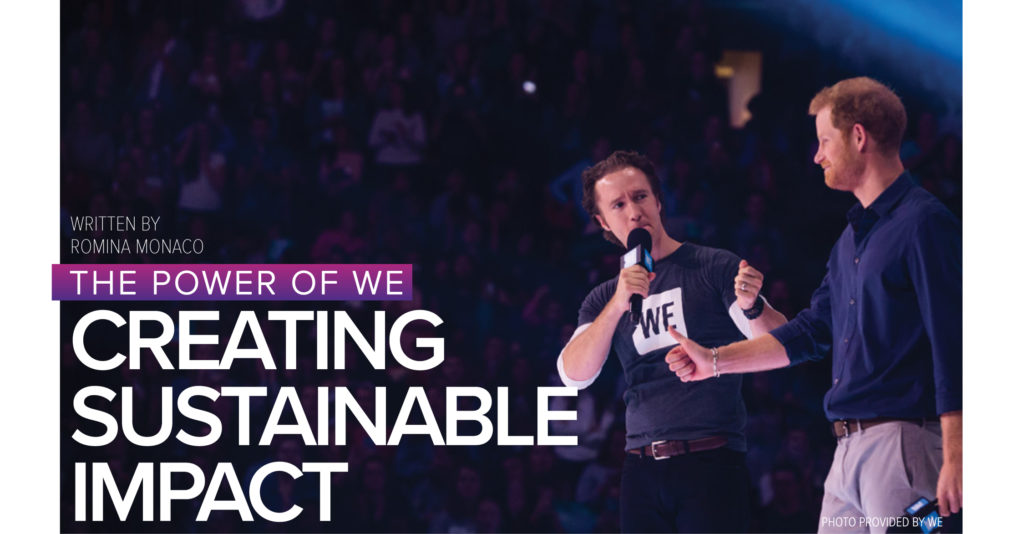 "Are you ready to change the world!?" shouts Marc Kielburger – his voice echoing across Toronto's Air Canada Centre, igniting an electrifying response from thousands of enthusiastic young people filling the seats at September's world-renowned WE Day celebration – a youth empowerment event Kielburger presents alongside his brother Craig, which this year witnessed a surprise appearance by humanitarian royal, Prince Harry. For Toronto audiences it is humbling to watch the Kielburgers, who are founders of arguably the most powerful positive social movement of modern times, standing on stage with a A-list musicians, actors and speakers while addressing their own fans and know that they are local boys and Vaughan natives who have taken their homegrown values, etched deep in philanthropy, to a global arena.
Changing the world, as elementary as it sounds, is an undoubtedly ambitious if not a seemingly impossible endeavour.  However, after twenty-plus years of committing their lives to this purpose the Kielburgers are proving that it can be done.  As the brain children behind the WE Movement and its encapsulating ME to WE Social Enterprise, WE Charity and WE Day celebrations, they have brilliantly devised an innovative, multifaceted social cause which assists in providing education, health, clean water, sanitation, alternative income, agriculture and food security for people throughout the planet. However, with the alarming environmental issues facing our modern world is this a race against time? "On one hand, yes, and in regards to our environment, absolutely," states Craig Kielburger. "There is an urgency to act, especially with issues regarding refugees and world violence but I'd like to look at this as a time of opportunity. We can create a world in our generation that is free of extreme poverty, where every child goes to school and where sustainable consumption is the norm. It's the most exciting time in our history."
Considering the obstacles, the right people to inspire change are indeed the Kielburgers whose list of accolades fit the bill necessary to foster future leaders and lead the masses. Thirty-five year-old Craig is an Executive MBA graduate from Toronto's Schulich School of Business while forty year-old brother, Marc graduated from Harvard University, completing his law degree at Oxford University. In addition to being celebrated activists and humanitarians they are also bestselling authors, motivational speakers and recipients of several honourary doctorates and degrees including the Order of Canada.  In listing just a few of their achievements, it should come as no surprise that these pioneering men launched their endeavours when they were kids – a fact that attracted global media attention and the likes of top-rated television programs such as The Oprah Winfrey Show, 60 Minutes including BBC.
Marc, the elder of the two, was the first to delve into philanthropy and at age thirteen traveled with the Toronto Catholic District School Board to the slums of Jamaica in order aid leprosy patients. Craig's journey began in 1995 after reading a newspaper article about a Pakistani boy sold into slavery at the age of four and later killed at age twelve for defending his rights and fighting against child labour. Craig, clearly disturbed by this tragic story of a child who happened to be his age, decided to take action. "The first thing I did was call up charities I found in the yellow pages and said I want to help. All they kept telling me was to send money and because I was twelve I didn't have a lot of money to send," he says, stating that this sparked his desire to gather fellow students from his Thornhill school and create the Free the Children charity – precursor to the WE Charity. Later that year he took a trip to south-east Asia where he gained insight into child labour. "In order to go my parents set a rule. I had to raise half the money for travel expenses myself and prove that I would be safe," chuckles Craig. "My greatest influences, hands down, have been my parents," he says with glowing admiration, describing Fred and Theresa Kielburger as entrepreneurs in addition to being educators. "I lived in multiple houses in Vaughan where every spring we'd buy a new house. Over the summer months we'd fix it up and twelve months later sell it and move into the next. Through this they taught us the value of hard work. They became teachers because they believed in education and was what they loved to do in order to give back to society. Yet they showed us that going beyond nine-to-five is necessary and being entrepreneurs is what helped them financially to give us the privileges they never had in childhood." However, the Kielburgers went beyond what many would consider the standard parameters of parental support when they moved out of their existing home, handing it over to their sons as a headquarters for their newfound charity. With the wheels now in motion and gears switched to high-speed the brothers were finally on the road to changing the world.
Understanding that their vision could not be realized without help from a greater source the brothers sought out assistance from political leaders in Ottawa and did so by contacting Mayor Maurizio Bevilacqua who, during that time served as Member of Parliament and who to this day, continues supporting the WE Movement he has proudly watched grow and evolve over the last twenty years. In return Craig has shown his gratitude by sitting as co-chair of Bevilacqua's 2012 Mayor's Gala which raises funds for the charitable causes. However, the pivotal moment catapulting the brothers to international recognition was when powerhouse Oprah Winfrey learned of their charity and waved her magic wand their way.  "She pledged to build 100 schools with us and like a pre-internet movie, bags upon bags of mail arrived!" exclaims Craig. "Thousands of letters that got poured onto our living room floor…and all from people who wanted to help. The reality was that our lives were turned upside down in such a profound way and we didn't have the resources to fund things."
Through the mentorship of many along with professional services provided pro bono, they established the ME to WE Social Enterprise, WE Charity and WE Day with each title symbolic of solidarity and its shift from meto wethinking – a mindset which encourages people to make socially responsible decisions and helps transform local and global communities through the goods, services and experiences ME to WE provides. "The idea that charity is only a once or twice a year transaction, usually at tax time or during the holidays with the occasional volunteering on a Saturday afternoon, is a broken model when the world's needs are so profound. We have so many more ways we can better the world today and create larger social change through the sustainable choices we make," he explains.
To put it in simple terms, ME to WE Social Enterprise is a for-profit corporation generating income through the sale of consumer conscious products and services, offsetting costs for the WE Charity by donating 50% of its annual revenue to the cause.  ME to WE then funnels the remaining 50% back into the business to fund programs, cover administration costs (which astonishingly enough is only 10% of the gross revenue) and expand the enterprise. By being self sufficient and promoting a philanthropic lifestyle to the public, the WE Charity becomes a highly effective model that does not need to rely on donations for its survival.  Since 2009, ME to WE has donated over 8.5 million to the WE Charity in both cash and in-kind donations. To date, WE Charity has built more than 1000 schools and schoolrooms around the world, empowering more than 200,000 children with an education. Hundreds of underdeveloped communities have benefited from its water and sanitation projects, medical resources and alternative income programs, helping them to become truly sustainable.
The social enterprise programs, goods and services are varied and all encompassing such as International Day of the Girl Child bracelets sold on the ME to WE website which are made by artisan women and in turn create employment and raise funds for girls' education in Kenya.  And by partnering with large corporations such as Walgreens, a purchase of a deodorant or shampoo can help provide clean water sources throughout these communities. ME to WE also offers international family trips centred around service including local school programs and camps that teach and get kids excited about philanthropy.
"All businesses should be social enterprises," suggests Craig, explaining that he measures the success of his own in two ways."Globally we look at the fact that there are about a million beneficiaries over the last 20 -plus years while the second key measurement is here closer to home where we are creating an engaged generation of young change-makers."  However, can the ME to WE Movement create a long term impact by encouraging youth to become proactive citizens who make socially responsible decisions? Craig already has proof that WE can. "In tracking our alumni we found that 795 had voted in the recent election. Studies show a correlation – that if you get young people to care about a cause, where they see themselves as a positive agent of change, they then cast ballots and create an electoral impact." To keep this momentum going is WE Day and what the Kielburgers refer to as "the world's largest classroom".  Its record-breaking attendance levels rival that of music concerts, filling stadiums across Canada, United States, the UK and Caribbean with kids committed to service and the world's most influential people. As the WE Movement blazes across the globe inspiring humanity, Craig is finally realizing his twelve year-old dream. "When you add up ordinary individuals who want to make a difference and live in acutely impactful ways, it creates a tidal wave of positive change. And my vision of a perfect world is one infused with purpose."