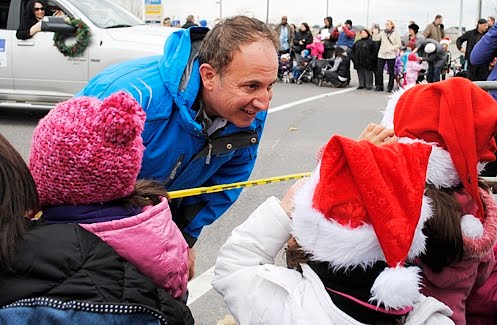 From the moment he first took office on December 6, 2010 Mayor Maurizio Bevilacqua not only swore an oath to serve the citizens of Vaughan by way of strong, local governance founded on principles of respect, accountability and transparency, he also made a personal commitment to transcend these core values into a new and unparalleled initiative etched deep in philanthropy and the spirit of generosity.  Mayor Bevilacqua's vision and his Spirit of Generosity campaign began to unfold in 2011 when he established the annual Mayor's Gala and the Charity Golf Classic.  Both events were founded with the aim of raising money for special causes and with a mandate to have all members of the community enjoy the quality of life they justly deserve.  Now in his second term, he is witnessing the fruits of his labour with a net total of $5 million raised which currently benefit over 100 charities, non-profit organizations and community groups.  Averaging $1 million annually, these proceeds have made a considerable difference to the lives of many and with its inclusive approach of serving people from all walks of life, the Mayor's undertaking has managed to make a significant and positive difference.
"Philanthropy is very important because it recognizes that ultimately in life's journey we are all in it together and by this I mean we're one event away from finding ourselves in a vulnerable position.  When you're in a position of strength it's extremely important to help those, who no fault of their own, may have fallen through the cracks or are facing challenges which require a community response," explains Mayor Bevilacqua, stating that this initiative sends a simple but powerful message. "The Mayor's Gala and Charity Golf Classic tells those in need that there are people out there willing to help them. No one should ever feel excluded, forgotten or made to feel that they are not alone. These two events have inspired generosity because they are value-driven and people feel that they're part of something bigger," he adds further mentioning that he opened these two celebrations, now coined The Spirit of Generosity, to everyone in the community so all can participate and contribute to its mission.
As Vaughan undergoes its transformation from suburban municipality into a world-class city, economic growth and infrastructure development are not the only changes evident. With the goal to ensure prosperity for all its citizens it is meeting the needs of thousands, many who can now breathe easier while relying on essential services.
All encompassing, The Spirit of Generosityassists youth, seniors, those with special needs, women's centres, special education and health institutions. In addition to art initiatives, cultural groups and sports teams, it goes one step further lending support beyond the borders of Vaughan and into the Greater Toronto Area – even as far as Tanzania where funds were donated for the building of a school. "I've broken away from past traditions of giving money to a single organization and implemented a program and an attitude that aims to bring as many people into the fold as possible," explains the Mayor who also says the great advantage of his inclusive and active style of public service is that he is able to understand his community exceptionally well and recognize organizations that are most in need.  While he personally assesses all potential beneficiaries, Vaughan Council is consulted and in the spirit of transparency and accountability they receive a full report every six months. This careful consideration is a continuous process and active residents are fully engaged in identifying those in need, making it quintessentially a united effort. Lastly, none is possible without contributions made by local businesses and individuals – the generous donors who make up the backbone of The Spirit of Generosity.
One of the many to benefit is the Shining Through Centre for Children with Autism and like all charities it was created to meet unfulfilled needs. Spearheaded by local residents with its first location opening its doors in Woodbridge in 2001, the centre is now a recognized leader in its field boasting a team of highly trained professionals utilizing cutting-edge therapy crucial to developing and promoting a child's independence.  "This has made a significant impact on our success and has helped us to subsidize families having difficulty paying the substantial fees required to improve their child's quality of life," says Shining Through president and co-founder, Fred Santini of the funds donated by The Spirit of Generositywhich, since 2012, total $50,000. "We've also been able to create new programs to better suit specific needs such as the Learning to Live program for teenagers. Equally, the gala has helped create much-needed awareness to Autism, the challenges faced by families as well as to the existence of Shining Through and what we do for these families and most importantly, their children," explains Santini, expressing gratitude to the Mayor for recognizing the value his organization brings.
This appreciation as well as the essence of The Spirit of Generosityare exemplified and most strongly felt at the Mayor's Gala. Considered Vaughan's premiere and most anticipated event, it not only attracts sponsors and recipients but all community members.  In just a short period of time its popularity has soared and so much so that the Mayor has come to refer to it fondly as, "The People's Gala". Staggering attendance numbers and inspiring themes such as "The Next Chapter", "Sen5e in the City" and this year's "Making Modern History" which commemorated the city's 25th anniversary, have accelerated the movement even enticing the likes of Jully Black and Serena Ryder, renowned Juno-winning artists who have elevated the gala to new heights with their electrifying performances. Adding to its appeal is the exciting live auction which in 2016 catapulted into a bidding frenzy.  Dinner with Mayor Bevilacqua, including an opportunity to name a street in the new Vaughan Healthcare Centre Precinct, was settled by Fred Darvish from Liberty Development at a record-breaking $400,000 to be donated to the Mackenzie Vaughan Hospital as was the $1.2 million pledged by Carlo Baldassarra of Greenpark Group.  This charitable one-night extravaganza resulted in a net sum of over $2 million raised.
Although special projects, such as the development of the new hospital, are top priority so is raising awareness to current issues. "Pride received $10,000. Given what happened in Orlando and what continues to happen throughout the world, it is our responsibility to generate greater awareness.  We must stand with people when they are in need," says Mayor Bevilacqua who, by acknowledging the 2016 attacks made on the LGBTQ community, has proven that The Spirit of Generosityisn't just a beacon of hope  but that it is also a force for social change.
Dealing with injustice is nothing new for this man who has been in public office for twenty-eight years and his innate ability to meld altruism in the political realm may turn out to be his greatest legacy yet. However, Mayor Bevilacqua does not see himself as a traditional politician but instead as a servant leader answering to a higher calling. And although his actions have sparked a sense of belonging and loyalty between community members, he will not take credit for The Spirit of Generositysaying the true inspiration lies within the compassion displayed throughout his unique city.  "I cannot manifest that which does not exist in people's hearts and spirits. Perhaps I've been able to extract that from people, bringing it forward and making it more visible," he says unassumingly. With this humble approach to leadership Vaughan has indeed become a noble city – one that lends a helping hand and bridges the gap so that no one is left behind.