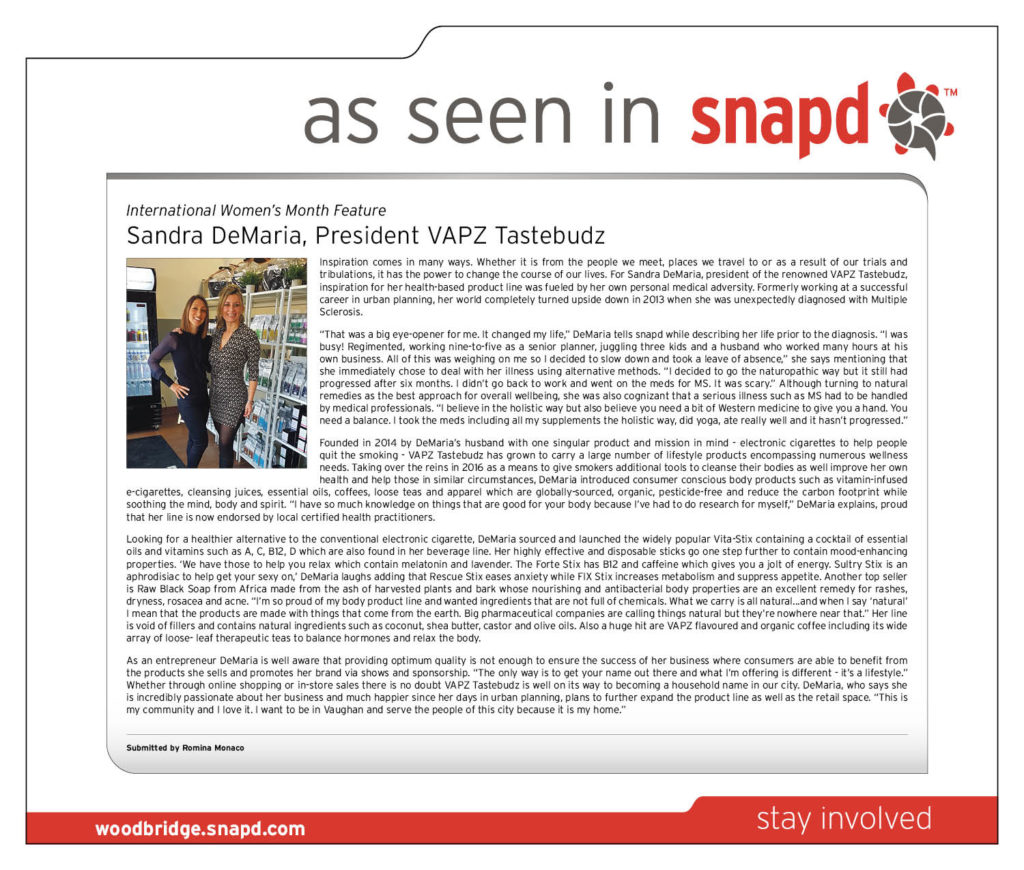 International Women's Month Feature
Sandra DeMaria, President VAPZ Tastebudz
Inspiration comes in many ways. Whether it is from the people we meet, places we travel to or as a result of our trials and tribulations, it has the power to change the course of our lives. For Sandra DeMaria, president of the renowned VAPZ Tastebudz, inspiration for her health-based product line was fueled by her own personal medical adversity. Formerly working at a successful career in urban planning, her world completely turned upside down in 20013 when she was unexpectedly diagnosed with Multiple Sclerosis.
"That was a big eye-opener for me. It changed my life," DeMaria tells Snapd while describing her life prior to the diagnosis. "I was busy! Regimented, working nine-to-five as a senior planner, juggling three kids and a husband who worked many hours at his own business. All of this was weighing on me so I decided to slow down and took a leave of absence," she says mentioning that she immediately chose to deal with her illness using alternative methods. "I decided to go the naturopathic way but it still had progressed after six months. I didn't go back to work and went on the meds for MS. It was scary."  Although turning to natural remedies as the best approach for overall wellbeing, she was also cognizant that a serious illness such as MS had to be handled by medical professionals. "I believe in the holistic way but also believe you need a bit of Western medicine to give you a hand. You need a balance. I took the meds including all my supplements the holistic way, did yoga, ate really well and it hasn't progressed."
Founded in 2014 by DeMaria's husband with one singular product and mission in mind – electronic cigarettes to help people quit the smoking – VAPZ Tastebudz has grown to carry a large number of lifestyle products encompassing numerous wellness needs. Taking over the reins in 2016 as a means to give smokers additional tools to cleanse their bodies as well improve her own health and help those in similar circumstances, DeMaria introduced consumer conscious body products such as vitamin-infused e-cigarettes, cleansing juices, essential oils, coffees, loose teas and apparel which are globally-sourced, organic, pesticide-free and reduce the carbon footprint while soothing the mind, body and spirit. "I have so much knowledge on things that are good for your body because I've had to do research for myself," DeMaria explains, proud that her line is now endorsed by local certified health practitioners.
Looking for a healthier alternative to the conventional electronic cigarette, DeMaria sourced and launched the widely popular Vita-Stix containing a cocktail of essential oils and vitamins such as A, C, B12, D which are also found in her beverage line. Her highly effective and disposable sticks go one step further to contain mood-enhancing properties. 'We have those to help you relax which contain melatonin and lavender. The Forte Stix has B12 and caffeine which gives you a jolt of energy. Sultry Stix is an aphrodisiac to help get your sexy on,' DeMaria laughs adding that Rescue Stix eases anxiety while FIX Stix increases metabolism and suppress appetite.  Another top seller is Raw Black Soap from Africa made from the ash of harvested plants and bark whose nourishing and antibacterial body properties are an excellent remedy for rashes, dryness, rosacea and acne. "I'm so proud of my body product line and wanted ingredients that are not full of chemicals. What we carry is all natural…and when I say 'natural' I mean that the products are made with things that come from the earth. Big pharmaceutical companies are calling things natural but they're nowhere near that." Her line is void of fillers and contains natural ingredients such as coconut, shea butter, caster and olive oils.  Also a huge hit are VAPZ flavoured and organic coffee including its wide array of loose- leaf therapeutic teas to balance hormones and relax the body.
As an entrepreneur DeMaria is well aware that providing optimum quality is not enough to ensure the success of her business where consumers are able to benefit from the products she sells and promotes her brand via shows and sponsorship. "The only way is to get your name out there and what I'm offering is different – it's a lifestyle."  Whether through online shopping or in-store sales there is no doubt VAPZ Tastebudz is well on its way to becoming a household name in our city. DeMaria, who says she is incredibly passionate about her business and much happier since her days in urban planning, plans to further expand the product line as well as the retail space. "This is my community and I love it.  I want to be in Vaughan and serve the people of this city because it is my home."