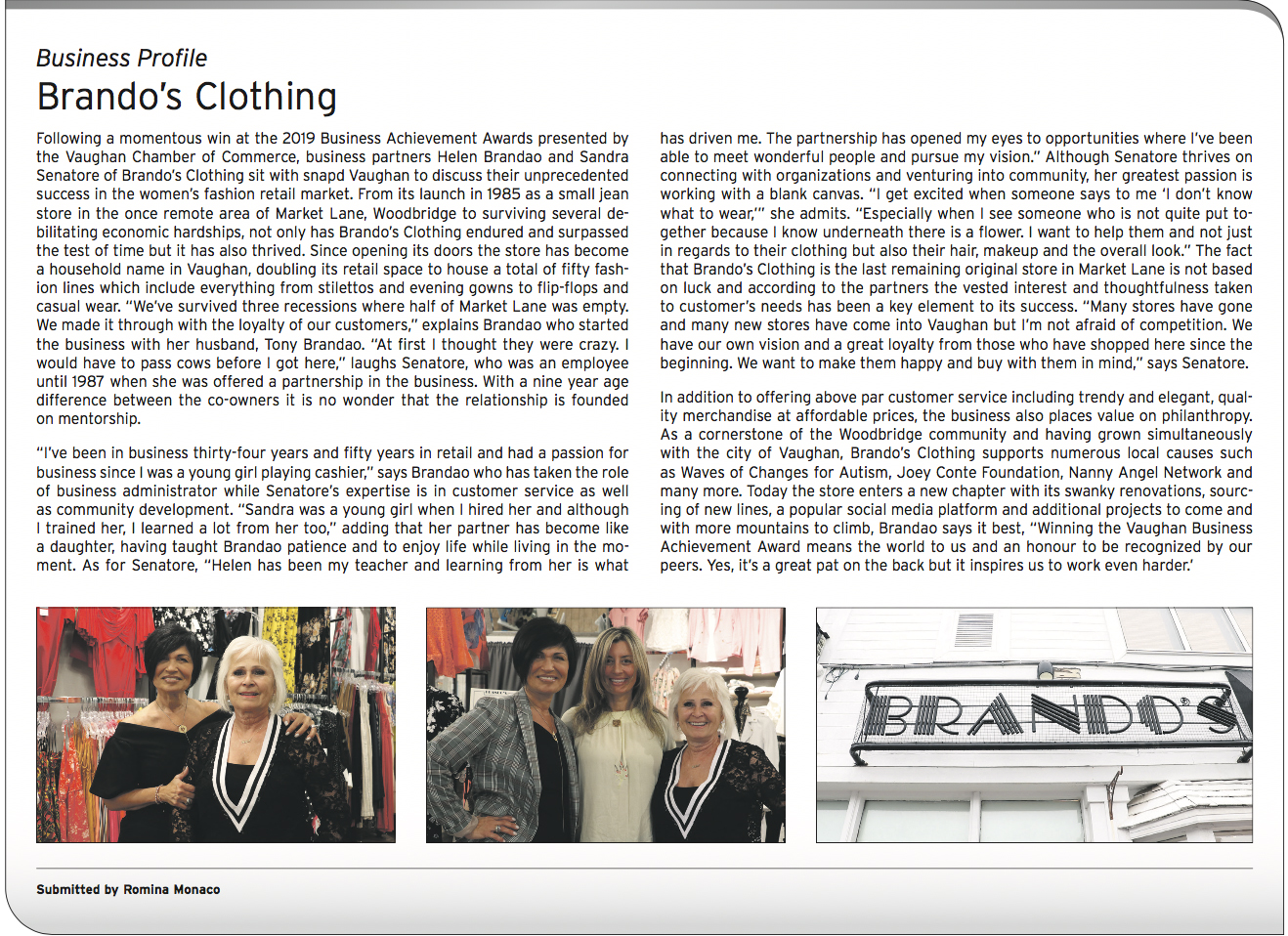 Following a momentous win at the 2019 Business Achievement Awards presented by the Vaughan Chamber of Commerce, business partners Helen Brandao and Sandra Senatore of Brando's Clothing sit with snapd Vaughan to discuss their unprecedented success in the women's fashion retail market. From its launch in 1985 as a small jean store in the once remote area of Market Lane, Woodbridge to surviving several de- bilitating economic hardships, not only has Brando's Clothing endured and surpassed the test of time but it has also thrived. Since opening its doors the store has become a household name in Vaughan, doubling its retail space to house a total of fty fash- ion lines which include everything from stilettos and evening gowns to ip- ops and casual wear. "We've survived three recessions where half of Market Lane was empty. We made it through with the loyalty of our customers," explains Brandao who started the business with her husband, Tony Brandao. "At rst I thought they were crazy. I would have to pass cows before I got here," laughs Senatore, who was an employee until 1987 when she was offered a partnership in the business. With a nine year age difference between the co-owners it is no wonder that the relationship is founded on mentorship.
"I've been in business thirty-four years and fty years in retail and had a passion for business since I was a young girl playing cashier," says Brandao who has taken the role of business administrator while Senatore's expertise is in customer service as well as community development. "Sandra was a young girl when I hired her and although I trained her, I learned a lot from her too," adding that her partner has become like a daughter, having taught Brandao patience and to enjoy life while living in the mo- ment. As for Senatore, "Helen has been my teacher and learning from her is what has driven me. The partnership has opened my eyes to opportunities where I've been able to meet wonderful people and pursue my vision." Although Senatore thrives on connecting with organizations and venturing into community, her greatest passion is working with a blank canvas. "I get excited when someone says to me 'I don't know what to wear,'" she admits. "Especially when I see someone who is not quite put to- gether because I know underneath there is a ower. I want to help them and not just in regards to their clothing but also their hair, makeup and the overall look." The fact that Brando's Clothing is the last remaining original store in Market Lane is not based on luck and according to the partners the vested interest and thoughtfulness taken to customer's needs has been a key element to its success. "Many stores have gone and many new stores have come into Vaughan but I'm not afraid of competition. We have our own vision and a great loyalty from those who have shopped here since the beginning. We want to make them happy and buy with them in mind," says Senatore.
In addition to offering above par customer service including trendy and elegant, qual- ity merchandise at affordable prices, the business also places value on philanthropy. As a cornerstone of the Woodbridge community and having grown simultaneously with the city of Vaughan, Brando's Clothing supports numerous local causes such as Waves of Changes for Autism, Joey Conte Foundation, Nanny Angel Network and many more. Today the store enters a new chapter with its swanky renovations, sourc- ing of new lines, a popular social media platform and additional projects to come and with more mountains to climb, Brandao says it best, "Winning the Vaughan Business Achievement Award means the world to us and an honour to be recognized by our peers. Yes, it's a great pat on the back but it inspires us to work even harder.'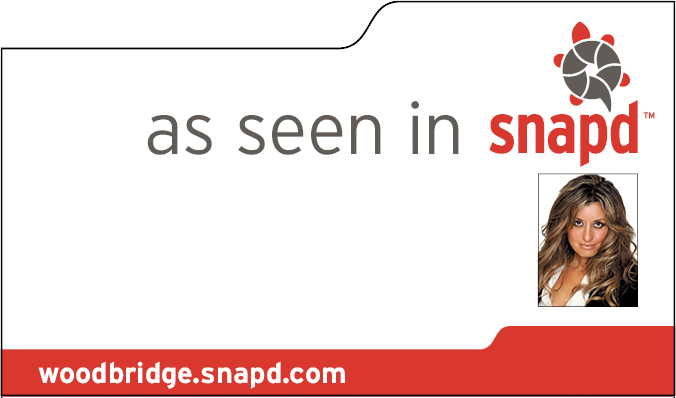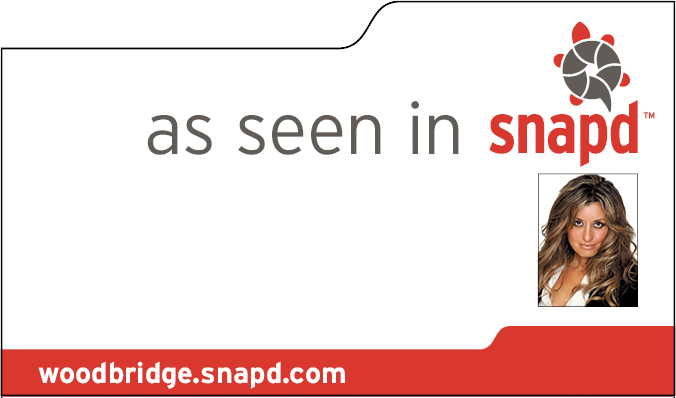 Buying a property can be a daunting task for anyone.  Not only is the process complicated, the financial aspect can also prove to be overwhelming and intimidating – especially if you're a first-time home buyer. Shopping around for a mortgage is one of the more tedious prerequisites so it's reassuring to know that there are community-oriented, responsible individuals like Frank and Anthony Di Nardo, who are willing to go that extra mile to ensure you get the best deal possible.
Although Di Nardo Financial Inc. is new to the Vaughan landscape, having just recently opened its doors in Maple, those behind its operation are seasoned professionals.  Owned and operated by siblings, Frank and Anthony, the mortgage brokerage firm includes a trusted team of agents with over twenty-five years of combined knowledge and experience.
"We are not reinventing the wheel.  What distinguishes us is the quality service we provide. Our goal is to build trust with our clients and guarantee they get the best deal possible. We want everyone to feel satisfied and confident with the decisions they've made regarding their mortgage agreement" says Frank, the elder of the duo.
It was not a coincidence that while growing up both brothers exhibited a mutual interest in finance.  Rather, this passion was passed down by their father.  Gino Di Nardo's long career as a bank branch manager, including his early years spent as a mortgage broker, had a profound effect on his children.
"He has always been a mentor to us" explains Frank. "Before we were even licensed and practicing as agents our father had exposed us to the world of finance.  Regardless of the education we received, the most important lessons we learned were from him. He faced every possible scenario and what I admire about him was how quickly he came to find solutions for people" he adds, leaning back in the chair of his contemporary-style office.  Beside him as an old Remington typewriter from 1908 he says he picked up at an antique shop – a sentimental item for a young, diligent business man.
Frank, who holds the broker title at Di Nardo Financial, is a graduate from the University of Toronto with a double major in finance and economics.  After receiving his mortgage training from Seneca College, he was employed as a mortgage agent at Invis, the renowned national mortgage brokerage firm. He returned to Seneca several years later, choosing to further his education and attain his broker licence.  Following in Frank's footsteps shortly thereafter was his brother Anthony, who now practices as an agent.
Unlike the days of yore, many of today's buyers are opting to go with the services of a mortgage agent who will negotiate with lenders their behalf. However, there are still those who fear dealing with any institution other than a bank.  In accordance to the Mortgage Brokerages, Lenders and Administrators Act of Ontario all professionals must be licensed and comply with the strict guidelines and regulations administered by the Financial Services Commission of Ontario (FSCO).  Not only does Di Nardo Financial meet these requirements, it is also a member of the Independent Mortgage Broker Association of Ontario (IMBA) and the Canadian Association of Accredited Mortgage Professionals (CAAMP) – organizations entrusted in maintaining the integrity of the industry.
Trying to understand the advantages of dealing with a brokerage over a banking institution can be a challenge, especially for those who are not mortgage savvy.
"We offer better overall service and we're more flexible" explains Frank.  As the middlemen responsible for bringing lending institutions and borrowers together brokers have access to more lenders than banks do. Furthermore, their agents basically hold your hand through the whole process, even following up after the sale to continue their commitment.
"We deal with a great number of credible lenders so we are able to bring a wider variety of offers to the table. We also cover every aspect of the mortgage agreement from assessing your credit situation, determining what you can truly afford and finally presenting a wide array of options.   A bank has more defined boundaries and is more restricted because it usually draws from one lending institution. It's difficult to get the best deal in these circumstances and with the new legislation that's been implemented the banks don't take on much risk" say the Di Nardos.
Many times brokers will find a lender who will make loans that a bank refuses – an example being bad credit.  Also, loans for commercial properties might be easier to procure through a broker. One misconception is that brokerages charge clients for their services. Not so, according to Di Nardo Financial.  Mortgage brokers are paid their fee by the lender. Only in rare circumstances is a fee warranted.
"There are a lot of feel goodstories that come out of here" says Frank.  "I get so involved sometimes because I really want to help people get what they want.  Some might say it adds a more human element but for me it's just a natural part of what I do"he adds.  As husbands and fathers themselves, the Di Nardos understand that there's a fine line between business and community responsibility.
As for what's in store for Di Nardo Financial's future, Frank and Anthony give some insight.
"Besides continuing our commitment to serve the Vaughan community, we would like Di Nardo Financial to be accessible throughout the Greater Toronto Area.  Large offices with a huge staff definitely don't interest us.  Credible, experienced and smaller teams offering outstanding quality is what is most important. "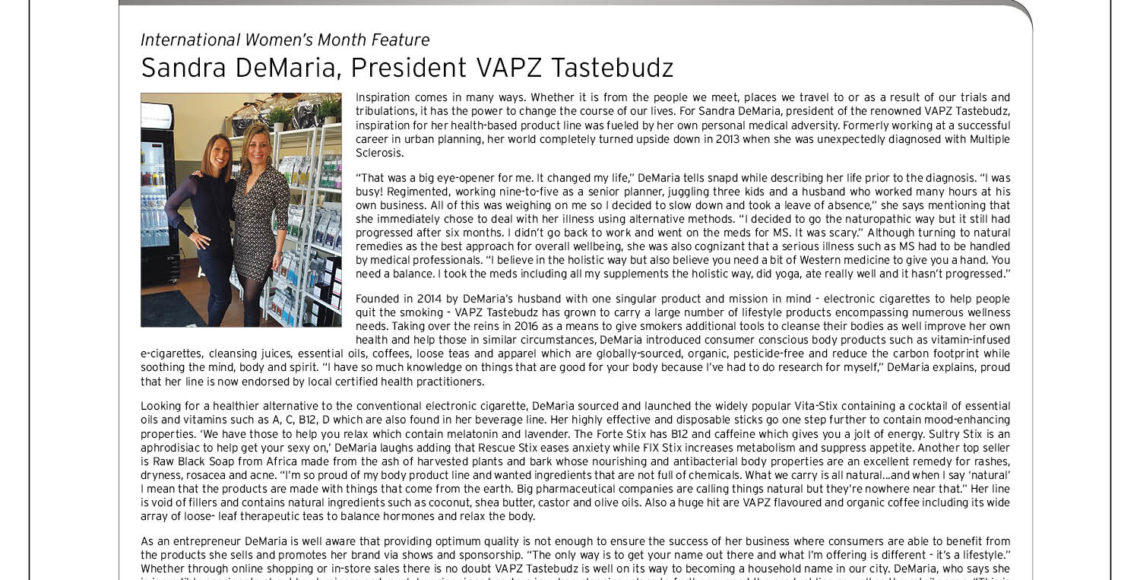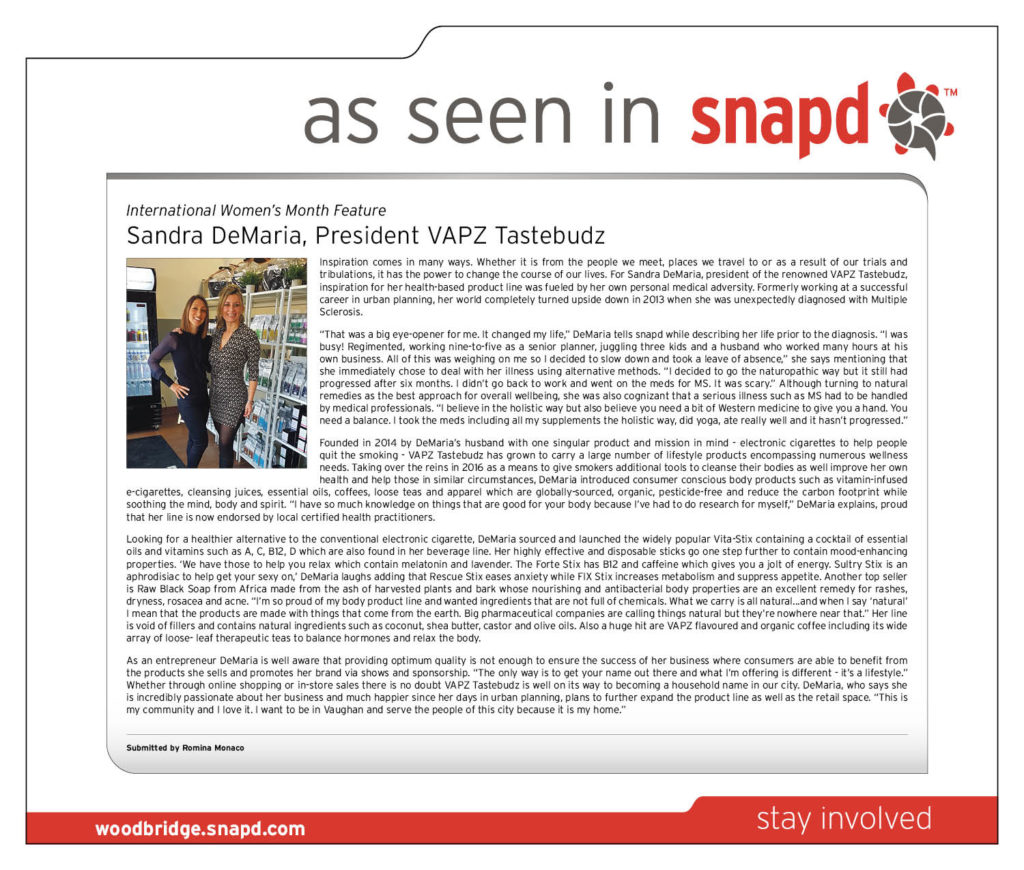 International Women's Month Feature
Sandra DeMaria, President VAPZ Tastebudz
Inspiration comes in many ways. Whether it is from the people we meet, places we travel to or as a result of our trials and tribulations, it has the power to change the course of our lives. For Sandra DeMaria, president of the renowned VAPZ Tastebudz, inspiration for her health-based product line was fueled by her own personal medical adversity. Formerly working at a successful career in urban planning, her world completely turned upside down in 20013 when she was unexpectedly diagnosed with Multiple Sclerosis.
"That was a big eye-opener for me. It changed my life," DeMaria tells Snapd while describing her life prior to the diagnosis. "I was busy! Regimented, working nine-to-five as a senior planner, juggling three kids and a husband who worked many hours at his own business. All of this was weighing on me so I decided to slow down and took a leave of absence," she says mentioning that she immediately chose to deal with her illness using alternative methods. "I decided to go the naturopathic way but it still had progressed after six months. I didn't go back to work and went on the meds for MS. It was scary."  Although turning to natural remedies as the best approach for overall wellbeing, she was also cognizant that a serious illness such as MS had to be handled by medical professionals. "I believe in the holistic way but also believe you need a bit of Western medicine to give you a hand. You need a balance. I took the meds including all my supplements the holistic way, did yoga, ate really well and it hasn't progressed."
Founded in 2014 by DeMaria's husband with one singular product and mission in mind – electronic cigarettes to help people quit the smoking – VAPZ Tastebudz has grown to carry a large number of lifestyle products encompassing numerous wellness needs. Taking over the reins in 2016 as a means to give smokers additional tools to cleanse their bodies as well improve her own health and help those in similar circumstances, DeMaria introduced consumer conscious body products such as vitamin-infused e-cigarettes, cleansing juices, essential oils, coffees, loose teas and apparel which are globally-sourced, organic, pesticide-free and reduce the carbon footprint while soothing the mind, body and spirit. "I have so much knowledge on things that are good for your body because I've had to do research for myself," DeMaria explains, proud that her line is now endorsed by local certified health practitioners.
Looking for a healthier alternative to the conventional electronic cigarette, DeMaria sourced and launched the widely popular Vita-Stix containing a cocktail of essential oils and vitamins such as A, C, B12, D which are also found in her beverage line. Her highly effective and disposable sticks go one step further to contain mood-enhancing properties. 'We have those to help you relax which contain melatonin and lavender. The Forte Stix has B12 and caffeine which gives you a jolt of energy. Sultry Stix is an aphrodisiac to help get your sexy on,' DeMaria laughs adding that Rescue Stix eases anxiety while FIX Stix increases metabolism and suppress appetite.  Another top seller is Raw Black Soap from Africa made from the ash of harvested plants and bark whose nourishing and antibacterial body properties are an excellent remedy for rashes, dryness, rosacea and acne. "I'm so proud of my body product line and wanted ingredients that are not full of chemicals. What we carry is all natural…and when I say 'natural' I mean that the products are made with things that come from the earth. Big pharmaceutical companies are calling things natural but they're nowhere near that." Her line is void of fillers and contains natural ingredients such as coconut, shea butter, caster and olive oils.  Also a huge hit are VAPZ flavoured and organic coffee including its wide array of loose- leaf therapeutic teas to balance hormones and relax the body.
As an entrepreneur DeMaria is well aware that providing optimum quality is not enough to ensure the success of her business where consumers are able to benefit from the products she sells and promotes her brand via shows and sponsorship. "The only way is to get your name out there and what I'm offering is different – it's a lifestyle."  Whether through online shopping or in-store sales there is no doubt VAPZ Tastebudz is well on its way to becoming a household name in our city. DeMaria, who says she is incredibly passionate about her business and much happier since her days in urban planning, plans to further expand the product line as well as the retail space. "This is my community and I love it.  I want to be in Vaughan and serve the people of this city because it is my home."